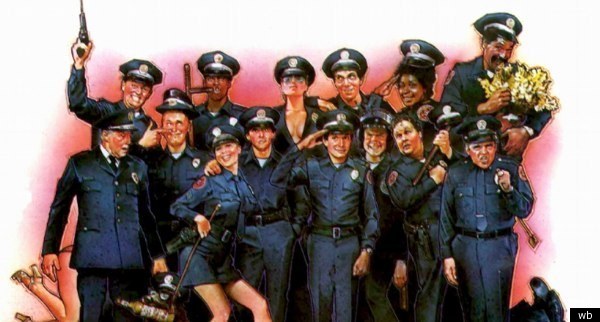 In an alternate universe, back in 1984, someone with sense said, "You know, we really don't need a second 'Police Academy' movie. Let's concentrate on that sequel to 'D.C. Cab' instead." In this alternative universe, "Police Academy" isn't loathed as much as it is in our universe. In that universe, "Police Academy" is regarded as "that standalone R-rated comedy that had Steve Guttenberg and nudity." Nothing more, nothing less. In that alternative universe, it would be fun -- on a day when a new "Police Academy" remake gets a director -- to make a list of what actors that we'd like to see in a "Police Academy" remake. For a few minutes, let's pretend that we're in that alternate universe.


Joel McHale as Carey Mahoney I am not at all suggesting that any actor could ever hope to fill the sleeveless uniform of Steve Guttenberg ... OK, I can't even finish that sentence as a joke. Let's just move on. Look, if there's going to be a "Police Academy" remake, don't we want it to be halfway watchable? Don't we want its lead to be an actor like McHale who can so effortlessly crack wise while remaining eminently likable? Put it this way: If Joel McHale is cast as the lead in a remake of "Police Academy," I would at least possibly see that movie.


Jessica Biel as Karen Thomson The original "Police Academy" was Kim Cattrall's follow-up to her first break in a mainstream film, "Porky's." So let's assume the new "Police Academy" will -- like the first one -- be an R-rated movie with nudity. Not only would Jessica Biel be a good romantic foil for McHale but, according to Google, she has experience doing nude scenes, which could come in handy.


Jay Pharoah as Larvell Jones Pharoah already does a killer Michael Winslow impression on "Saturday Night Live," so this one seams like a bit of a no-brainer.


Michael Clarke Duncan as Moses Hightower The idea of Michael Strahan playing the Hightower role was tossed around the office -- and, yes, just like Bubba Smith, Strahan used to play in the NFL. But if we really dig deep into the Hightower persona (I know, bear with me), we will recall that, even though Hightower was a big man, he hated conflict and was actually a bit shy. For this reason: Michael Clarke Duncan edges out Strahan.


Dennis Quaid as Lt. Harris First, the more Dennis Quaid that we all have in our lives, the better. Second, after playing the John Lithgow role in the surprisingly good "Footloose" remake, we know Quaid isn't opposed to starring in a remake of a movie from 1984.


Michael Caine as Cmndt. Lassard Your second thought is most likely something along the lines of, Wait, Michael Caine would never stoop so low as to do a remake of "Police Academy." (Your first is, of course, Why am I reading a post about "Police Academy"?) I will remind you that Michael Caine has starred in "Jaws: The Revenge," "Mr. Destiny," "Blue Ice," "Austin Powers in Goldmember," "Bewitched" and "Journey 2: The Mysterious Island." (Caine gets a pass on that "Get Carter" remake with Sylvester Stallone, because I'm sure he was just trying to be a good sport.)


Gina Carano as Sgt. Callahan I know you most likely haven't seen Steven Soderberg's "Haywire" yet. If you do see "Haywire," you will know why Carano would be perfect to play the tough-as-nails, physically domineering Debbie Callahan.


Viola Davis as Laverne Hooks This one is tough. Not many actresses working today are known for their squeaky-then-loud-when-angry voice. Look, after all of the awards buzz for "The Help," it's just a rite of passage to, then, take an easy paycheck role. For Davis, a "Police Academy" remake would certainly qualify.


Ed Helms as Douglas Fackler Fackler seems to be the forgotten Police Academy member, yet, surprisingly, he made appearances in four of the films. Helms would be great (for really no other reason than there's a sight resemblance), but the role would most likely need to be expanded to take advantage of Helms' talents.


Rainn Wilson as Eugene Tackleberry Though he's undeniably brilliant as Dwight Schrute on "The Office," Wilson has had a difficult time finding a film role that fits him. ("Super" was darn close.) Mix one-half Frank D'Arbo from "Super" and one-half Dwight Schrute, and we've got ourselves a quite cerebral and dangerous Eugene Tackleberry.


Nobody as George Martin In the original "Police Academy," Martin pretends to speak with a Hispanic accent for pretty much the entire movie because it helps him meet women. Let's go ahead and not do that again.


Zach Galifianakis as Leslie Barbara The gist of Barbara's character is that he's (A) overweight, (B) has two female names and (C) gets picked on a lot because of "A" and "B." Perhaps we downplay the overweight angle and just let Galifianakis have fun with the concept of having two female names. Or we drop this character, too. (Either is fine with me, really.) (Actually, not making this movie would be fine with me, too.)
Mike Ryan is the senior writer for Moviefone. He has written for Wired Magazine, VanityFair.com, GQ.com, New York Magazine and Movieline. He likes Star Wars a lot. You can contact Mike Ryan directly on Twitter