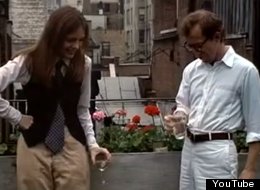 This Friday is the 35th anniversary of "Annie Hall." The Woody Allen favorite, which won Best Picture in 1977 -- beating out "Star Wars" -- made "The Sorrow and The Pity," spider killing and neurotic rants a necessary part of romance.
But "Annie Hall" also goes down as a pioneer of tackling the awkward first date (and thus holds the copyright for the funniest subtitles ever). So, in honor of the movie's anniversary, we put together some more awkward movie dates for your cringe-worthy enjoyment. La-di-da!
WATCH:

2001's "Kissing Jessica Stein" briskly rounds up the horrors of dating through a series of bad first encounters. Note to guys: Never act like this on a date.

"When Harry Met Sally" beautifully articulated the potential pit falls of setting your friends up. (Also, Meg Ryan's facial expressions during this dinner are priceless.) But we all know that in this 1988 classic, everything happens for a reason.

If only Jack Donaghy were there to help Tina Fey through her I-want-a-baby-now speech in "Baby Mama." As she says, "It's too much for a first date, isn't it?"

Arguably one of the grossest dates in movie history, this scene in "There's Something About Mary" serves as a reminder that your night out could always be worse.

Winona Ryder has mastered the art of adorable awkwardness in 1994's "Reality Bites." Ladies, take note.

Even though Bill Murray has time on his side, his merry-go-round date with Andie Macdowell always seems to miss the mark. Oh, well. To world peace!

Yes, Dustin Hoffman personified awkwardness in "The Graduate," but can you blame him? At least everything ended up working out for him and Mrs. Robinson's daughter, right?

Natalie Portman might have regained her originality during this scene from "Garden State," but she did so at the expense of Zach Braff's feelings -- and a potential make out sesh.

One sure fire way to ruin a dinner: undermine a doctor and confess to your teacher that you're in love with her.

While we may not all share his macabre point of view, Woody nails the first date jitters in 'Annie Hall."
Contribute to this Story: