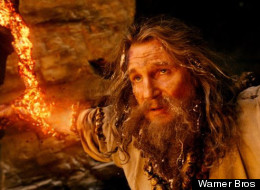 The follow-up to 2010's epic "Clash of the Titans" arrives in theaters today. It's called, imaginatively enough, "Wrath of the Titans," in which we are invited to "feel the wrath" as Perseus (Sam Worthington) tries to save his father Zeus (Liam Neeson) from the clutches of Hades (Ralph Fiennes).
The possibility of a third "Titans" film isn't totally out of the question, as "Clash" was universally panned and thought to be the victim of a lazy 3D conversion. Yet here we are! (Worthington, the franchise's star, has admitted on several accounts that he did a poor job the first time around and that the sequel will be much better.)
Will their be another sequel? Who knows. However, assuming history repeats itself, Moviefone took the liberty of coming up with potential "Titans" titles.
Enjoy!
PHOTOS:

Loading Slideshow
"Ash of the Titans"

In this apocalyptic sequel, the Lava Titan reduces all of Olympus and earth to a giant pile of ashes. "Evil Dead" fans are massively disappointed that the film <a href="http://www.youtube.com/watch?v=OxJsN7tnBDE" target="_hplink">does not star this Ash</a>.

"Bath of the Titans"

After getting good and grimy for two whole movies, Perseus is in desperate need of a bath! Sam Worthington shows off his half-God bod at a local bathhouse. Clad only in a towel for the entire movie, he wonders why <a href="http://www.youtube.com/watch?v=jc3b7MP4pyw" target="_hplink">people keep offering him snails <i>and</i> oysters</a>. Watch out for the Kraken's dramatic reappearance in the Olympic-sized pool.

"Cash of the Titans"

With the "Titans" franchise failing at the box office, Liam Neeson offers audience members cold hard cash in exchange for seeing the movie.

"Death of the Titans"

All bloated film franchises must come to an end: in this film, the Gods and Titans are pitted against each other in a "Hunger Games"-style contest. Who will survive? The odds favor warrior Queen Andromeda (Rosamund Pike) <a href="http://news.moviefone.com/2012/03/21/female-archers-katniss-princess-merida_n_1370190.html" target="_hplink">who wields a mean bow-and-arrow</a>.

"Rash of the Titans"

Perseus must travel to the ends of the earth to find a cure for a nasty rash he picked up in the previous film.

"Sash of the Titans"

Who's the fairest of them all? Enraged by Cassiopeia's claims that her daughter is the most beautiful, the goddesses and mortals compete in a beauty contest to settle the question once and for all. Charlize Theron (hyped up on her "Evil Queen" stint) stars as Aphrodite, who turns into a giant sea monster and eats the hearts of all the competitors.

"'Stache of the Titans"

In this installment, Zeus's impressive mustache rebels and breaks free from his follicular-brethren. By Zeus's beard, it takes an entire army to reunite the god's facial hair.
Contribute to this Story: