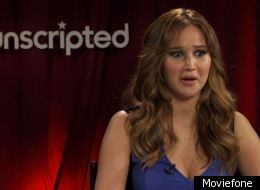 When Jennifer Lawrence, Josh Hutcherson and Elizabeth Banks sat down in the "Unscripted" hot seat to answer fan questions, who could have predicted how crazy it would get right off the bat? The stars of the hotly-anticipated "Hunger Games" blockbuster immediately addressed our nation's most pressing concern: Katniss Everdeen and Peeta Mellark. The days of Bennifer and Brangelina are long gone, but what kind of nickname can we bestow upon pop culture's new preeminent pairing? Patniss? Keeta?
While you try to come up with a catchy-sounding portmanteau, J-Law throws down a not-so-clean nickname for Katniss that's sure to raise a few eyebrows; surviving in the arena requires some rugged survivalist skills, but lack of clean pants is just inhumane.
And don't forget: every day this week, we'll be unveiling more moments from this very special episode of "Unscripted," so stay tuned to Moviefone and get every question under the sun answered by the stars of "The Hunger Games."
Contribute to this Story: