Reverend Mother Dolores Hart, Oscar-Nominated Nun, Walks Red Carpet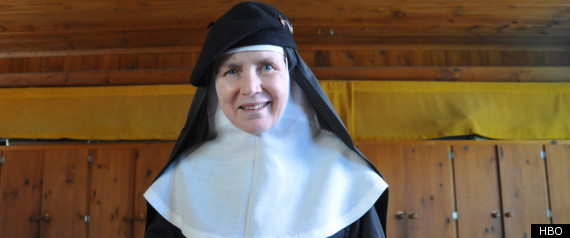 The Academy Awards Red Carpet is usually known as the glitziest and most glamorous event in pop culture, but the 2012 Oscars features a unique guest stepping into the spotlight: Reverend Mother Dolores Hart, the only nun to be a voting member of the Academy of Motion Picture Arts and Sciences and the subject of this year's Oscar-nominated documentary: "God is the Bigger Elvis."
Before pursuing the faith, Hart was poised to become a big actress in Hollywood: she made her movie debut opposite Elvis Presley in "Loving You" and then worked with him again in "King Creole." She became an in-demand young talent -- spurred on by rumors of an off-screen affair with the rock and roll icon. From 1957 to 1963, she starred in ten films, including the ground-breaking teen comedy "Where the Boys Are." On the eve of becoming a box office superstar, Hart gave up Hollywood to become a Benedictine Nun; "God is the Bigger Elvis" explores her decision to leave Hollywood and pursue her vocational calling.
The most captivating moments of the documentary occur when she interacts with her ex-fiance Don Robinson.
Hart and the Abbey of Regina Laudis still stage summer theater productions in Bethlehem, Connecticut to help enrich the community through arts.
For more info on "God is the Bigger Elvis" and all the Best Documentary Short nominees, check out Moviefone's complete rundown of the short film categories.
PHOTOS:

Next Slideshow
Short Thoughts on the Short Films
More slideshows: