'Wizard Of Oz' Disputes: Warner Bros. Launches Trademark Fights With Disney, Wine Company And More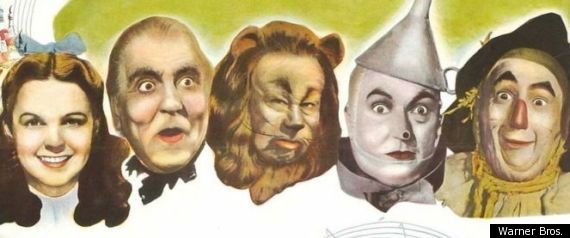 If you were planning on calling your dog Toto, you may want to pick another name. In an assault of Oz-like proportions, Warner Bros. has launched several trademark disputes with companies who are -- as the studio claims -- looking to capitalize off the 1939 classic, "The Wizard of Oz" (you can see the full list below).
According to THR, Warner Bros. has gone after several companies who've tried to make a buck off Dorothy and friends over the last year. The one currently making headlines is the dispute with Disney and their upcoming film, "Oz: The Great and Powerful." This past October, Warner filed a trademark registration on "The Great and Powerful Oz," one week after Disney filed its own. Yet despite the United States Trademark Office suspending Warner's attempt on the grounds that Disney asked first, as THR points out, both companies could be in for a future fight.
Last year, the 8th Circuit Court of Appeals gave Warner Bros. character protection over its copyright on "The Wizard of Oz." The studio has also been filing oppositions with the USPTO's Trademark Trial & Appeal Board, for merchandising rights and other uses of the "Oz" brand.
What makes this whole dispute even more complicated is the fact that the 1899 book the film is based on is currently in the public domain, meaning anyone can use the story's characters however they see fit. (As one of the oppositions lawyer's stated, the products being used are "taken directly from the book, which ... is in the public domain and out of copyright and a very public story, not created by [Warner Bros.]")
THE "OZ" DISPUTE: COMPANIES WARNER BROS. IS FIGHTING

Disney over "Oz: The Great and Powerful"


Wicked 'Wiches Wickedly Delicious Sandwiches, a California restaurant


Halloween costumes under the "Wizard of Oz" brand name


Wine brands including, "Dorothy of Kansas and Toto Wine," "Ruby Slippers Wine," "Broomstick Wine," "The Lion's Courage," and "Flying Monkey Wine


"If I Only Had A Brain," a neuroscience book
But, the studio is standing tall, saying that statements against their recent activity are "akin to saying that anyone should be entitled to use famous, widely licensed marks such as 'Harry Potter' or 'Roadrunner' merely because they were able to find those marks mentioned in a book."
It may be awhile before these disputes get resolved. For Warner Bros., they're likely hoping to do it before "Oz: The Great and Powerful" hits theaters March 8, 2013.
For more on the impending "Oz" fight, head over to THR.
[via THR]
FIVE MOVIE LAWSUITS

Loading Slideshow
"Coming to America"

Writer Art Buchwald sued Paramount Pictures, claiming that they stole his idea for 'Coming to America.' Buchwald won the lawsuit.

"The Passion of the Christ"

The movie's screenwriter, Benedict Fitzgerald, sued Mel Gibson over not paying him enough money for the film. They settled out of court.

"Borat"

Another movie that spawned a ton of legal trouble: writer/star Sacha Baron Cohen was sued for defamation as well as using footage of people without their permission.

"The Hangover, Part II"

What hasn't 'The Hangover, Part II' been sued for at this point? First the filmmakers were hit with a lawsuit alleging that they copied Mike Tyson's face tattoo without permission. That was dropped, but then they were sued again by a stunt man who suffered injuries on set. (That lawsuit is still pending.) A man also sued the filmmakers, claiming that they stole his life story and used it for 'Hangover, Part II.' Yeesh.

"Natural Born Killers"

The family of a Louisiana store clerk, who was shot by a young couple on a crime spree, sued Oliver Stone, claiming this movie inspired the crimes. <a href="http://news.bbc.co.uk/2/hi/entertainment/1217642.stm" target="_hplink">The lawsuit was eventually dropped</a>.