Mark Wahlberg Whitey Bulger Film? Boston Native May Duel Ben Affleck And Matt Damon For Mob Boss Movie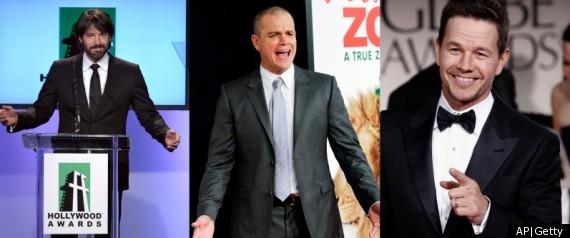 Awhile back -- to the delight of Bostonians everywhere -- Matt Damon told GQ that he and childhood BFF Ben Affleck were teaming for a film about Whitey Bulger, the notorious Boston mafia boss who was captured in California last year after 16 years on the lam.
Affleck would direct the project, with Damon starring and "Boardwalk Empire" creator Terence Winter writing the script.
Damon told the magazine, "There are a couple of competing movies and I don't think it's been announced yet that we're doing it. But the sooner it's announced the better, just because everyone else will back off, hopefully. I'm really excited about it."
As it turns out, not everyone is backing off.
Fellow Massachusetts-native Mark Wahlberg spoke with Boston radio station WAAF and revealed that he is planning on meeting with the infamous kingpin.
"I actually got a call about coming to see Whitey, he wants me to come down and visit him," Wahlberg said. "Maybe he'll give me the exclusive rights to tell his story, because he knows we can do it better than anybody else."
You know what that means? Boston-Off! Take a look at the Bulger hopefuls to see who is most worthy of portraying Beantown's most famous mobster. (Chowdahead, etc.)
1.) Matt Damon and Ben Affleck wrote and starred in the Boston-set "Good Will Hunting," thus bringing the term "Southy" to the masses; Mark Wahlberg was in the Funky Bunch. ADVANTAGE: Affleck/Damon
2.) Damon and Wahlberg starred in Martin Scorsese's "The Departed," which imagined Jack Nicholson as a mob boss who was largely based on Bulger. Wahlberg was funnier than Damon in "The Departed." ADVANTAGE: Wahlberg
3.) Wahlberg serves as an executive producer of "Boardwalk Empire," which deals with mobsters and is written by Terrence Winter. He was also the executive producer of the L.A.-based "Entourage." (Demerit.) ADVANTAGE: Affleck/Damon
4.) Affleck directed and starred in a Boston heist film, "The Town," which was pretty good -- but not as good as "The Departed." Wahlberg produced and starred in the Boston-set sports drama, "The Fighter," which was like "The Departed" with boxing. ADVANTAGE: Wahlberg
5.) Wahlberg opened up Wahlbergers in Hingham, Massachusetts. Affleck and Damon did not. ADVANTAGE: Affleck/Damon
There you have it! By a cheap theme restaurant, Affleck and Damon win this impromptu Boston-Off! (Wait for it...) How do you like them apples, Marky Mark!
[via Reuters]